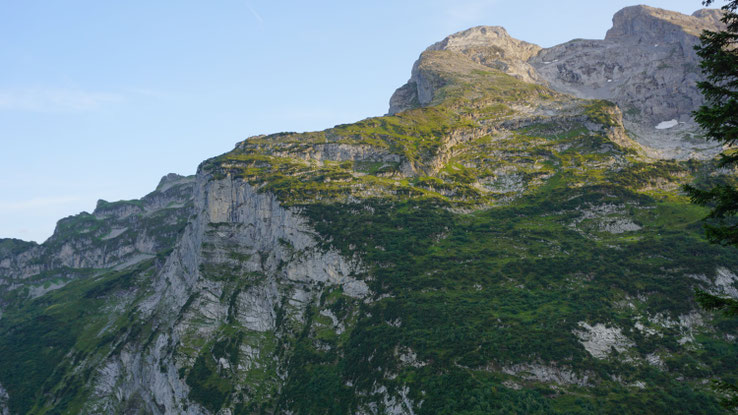 The stage from Urnerboden to Brüsti is one of the longest daily stages we have covered. We included a bus and a cable car ride on this day, of course you don't have to, but it relaxes the day a lot.
Tour Details
27.23 km (hiking distance), 36.46 km (total distance)
difficulty: easy
refreshment stops/cabins: At the roadside there are many nice picnic places and as one also gets through small villages, you can easily take care of yourself. At the destination Brüsti there is a barbecue place with running water and a toilet.
duration: approx. 10 hrs
starting point: Urnerboden, destination: Brüsti
route: Urnerboden - Vorfrutt - Klausenpass - Heidmanegg - Mettenen - Spiringen - Altdorf - Brüsti
Via Alpina is only suitable for dogs with a very high level of endurance and  good mountain experience
Detailed Description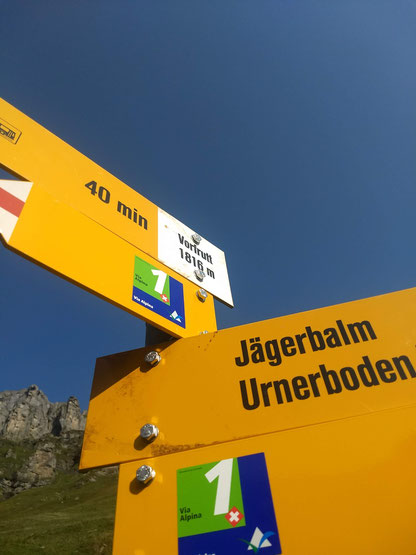 The most important recommendation for this day is clearly: get going early!
The stage is long and the first ascent to the Klausenpass offers almost no shade at all - it is definitely better if you have already passed it before the midday heat.
After a rich breakfast at the guesthouse, the trail first leads over the alpine meadows and then climbs gently uphill. As soon as you arrive at the pass road (which you have to cross several times, dogs are better kept on a leash, there are many motorcyclists on the way here!), the ascent becomes much steeper. The ascent to the Klausenpass is not technically difficult, you really only need a little stamina. At the top there is a nice view and a small shop where you can not only have a drink, but get a stamp for the hiking journal as well.
From the pass the hiking trail leads through a beautiful high valley before you turn left and descend very steeply to Urigen. The path leads over soft pastureland and then follows the road for a short while. After some time, it branches off to Spiringen. As the hiking trail from Spiringen leads along the road for a long time, we decided to take the bus from Spiringen to Altdorf. In doing so, you still have enough time to buy some food up in Altdorf, before stores close. From Altdorf, you follow the asphalt road to Attinghausen from where you take an old-fashioned and very stylish cable car (which you have to call and operate yourself!) up to Brüsti. From the top station, it is only a few minutes' walk to the guesthouse or to the really beautiful barbecue area with a fantastic view.
GPS track for download
Next week:
Share this post!
---