On the route from Brüsti to Engelberg lies one of my favourite passes that you cross during the Via Alpina: the Surenenpass. A beautiful ascent in terms of scenery, when descending from the pass you come along the rustic Blackenalp and Engelberg, the destination of this stage, is a really pretty little village with some good restaurants.
Tour Details
21.25 km
difficulty: easy to average
refreshment stops/cabins: the Surenen Pass invites you to a picnic. In no case should you miss the Blackenalp. Shortly after lunch you pass the Restaurant Alpenrösli.
duration: approx. 8 hrs
starting point: Brüsti, destination: Engelberg
route: Brüsti - Angistock - Langschnee - Surenenpass - Blackenalp - Stäuber - Alpenrösli - Herrenrüti - Wasserfall - Engelberg
Via Alpina is only suitable for dogs with a very high level of endurance and  good mountain experience
Detailed Description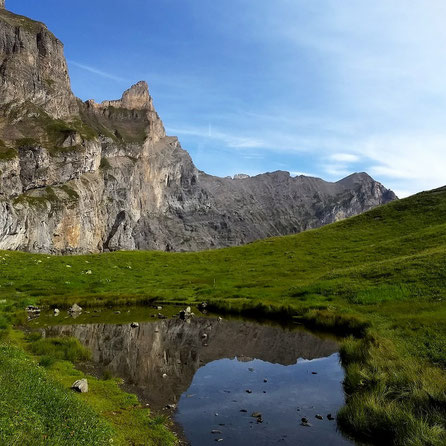 After having crossed the Klausenpass yesterday, today we hike across the Surenenpass at 2291 m above sea level.
From Brüsti, the trail first climbs steeply over several steps and rope-insured passages before the ascent to the pass begins. The path leads over varied alpine meadows, scree fields and along a small picturesque mountain lake. Although somewhat longer, it is worth taking the small detour from Angistock over Langschnee. Here the path leads through scree fields, old snow fields and at the same time blooming alpine meadows - a real hiking paradise.
From Langschnee you climb steeply and strenuously up to the Surenenpass.
The pass itself invites you to an extensive picnic break, if only because you need enough time to enjoy the fantastic view in all directions.
The descent from the pass leads through a rustic high valley with grazing cows and horses to the cosy Blackenalp. Here you should definitely try the fresh alpine milk before continuing well fortified. The hiking trail now leads past the spectacular waterfalls of the Stierenbach and on to Engelberg along forest and forest paths.
In Engelberg itself there are numerous restaurants and inns. Due to the rain in the early evening we did not stay on the campground, but in the Engelberg Trail Hotel, where Ioma was more than welcome.
A reservation is certainly recommendable here.
GPS track for download
Next week: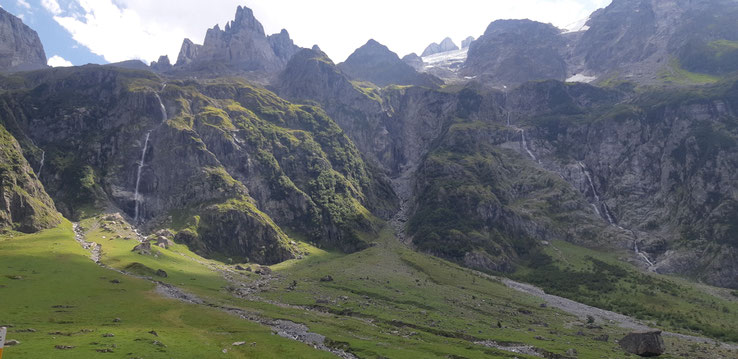 Share this post!
---