The mountain "Fuchses Schwyberg" lies in the middle of the nature reserve Gantrisch Parc, in the Swiss Alps, close to Berne.  (Find out more about the parc and it's location in the previous blogpost about Obernünenen!)
This trail is a bit more challenging, as it's a 10,6km hike with an altitude gain of around 600m. Depending on weather conditions it is even more difficult, as it can be really windy and cold up here.
Requirements & Gear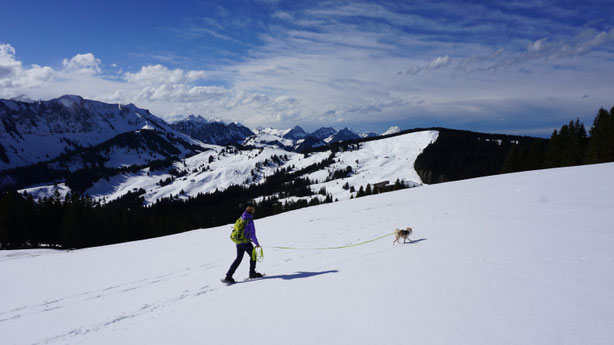 Besides snowshoes, I would recommend to bring the typical things for a winter hike: headband/beanie, warm gloves, hiking sticks (can be really useful!), warm clothes, first-aid-kit etc. (See my blogpost about the right snowshoe equipment!)
Since at the end of the trail you will find a little restaurant, you don't necessary need your own picnic, but of course feel free to bring for example a bottle of hot tea to warm up or some snacks (like for example cereal bars).
Tour Details
10,6km (round-trip)
difficulty: advanced
refreshment stops/cabins: none on the trail, but a restaurant at the start/end point of the tour
duration: approx. 4hrs
starting (and end) point: Schwarzsee Gypsera (restaurant)
route: Schwarzsee Gypsera - Schlossisbödeli - Chli Güger - Fuchses Schwyberg - (small) Fuchses Schwyberg - Alp Spielmannda - Schwarzsee Bad - Schwarzsee Gypsera
suitable for every dog with a good condition and some mountain experience
Detailed Description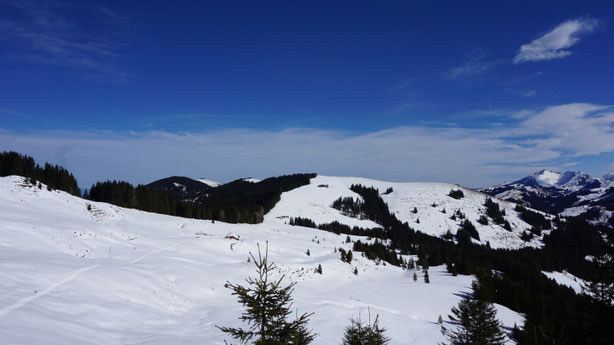 This hike starts at the parking "Schwarzsee Gypsera", just next to the restaurant I have already linked you above in the Tour Details. Follow the signs towards "Schlossbödeli" and "Chli Güger". The first ascend (around one hour is very steep and you will already gain a bit more than 400m altitude within this first hour. From "Chli Güger" keep right and follow the trail along the (windy) ridge towards Fuchses Schwyberg. Be very concetrated in this section, the wind gusts can be really strong! You will reach the summit within 1,5hrs total hiking time. This is also the highest point of the trail (1620m above sea level).
If you follow the trail towards the "small" Fuchses Schwyberg ("kleiner Fuchses Schwyberg") you will have a slightly steeper descent until your reach the old cabin "Alp Spielmannda". This is a very special place: The "Alp Spielmannda" is a place where people have the chance to be buried within the mountains. You won't realize that it's a graveyard, since there are no gravestones visible, but please respect the fact that you are walking on very special ground! (If you'd like to know more about it, this is the link to their website. Only available in German.)
Follow the trail (GPS track might be helpful!) in a wide turn with some ups and downs back to the valley and the restaurant Gypsera. They serve hot and cold drinks, snacks like cake or icecream, but also full dishes. Sit inside or outside and enjoy the amazing view towards the beautiful Schwarzsee!
GPS track
Share this post!
---