Fall is a perfect season for hiking. The temperatures are lowering, but you can still have some nice and sunny days or hours. There isn't a lot of snow, yet (at least on a lower altitude), so you don't need special gear and maybe not even a thick jacket, gloves etc.
Additionally, I love the fact that the world is changing (again). The trees start to dress up in red, yellow and orange. The time of harvesting begins and of course: this is the season of the vineyards!!!
Let me take you on a journey through the most beautiful vineyards you've ever seen!
The trail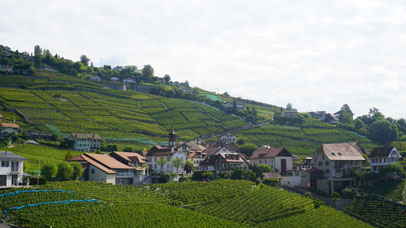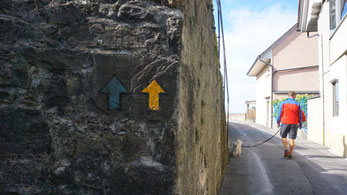 Finding the trail is easy: follow the yellow signs (from the train station) uphill into the vineyards. The trail is completely paved, so it is suitable for everyone (and every dog). Please consider the fact that you will be walking through agricultural area, so your dog should be on the leash all of the time.
Our hike leads us from Lutry to Châtelard and uphill to Grandvaux. All along the perfectly marked trail you will find lots of wineries and restaurants. Perfect spots to stop by, try the local wine or have a little break and regional snacks.
When you leave Grandvaux towards Riex and Epesses the terraces will be a lot smaller, but also steeper. By this time of the year, the grapes are already heavy and juicy - but please don't pick them! The winegrower will need them!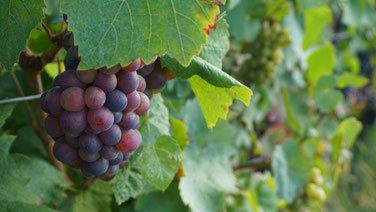 By now, you should turn towards Dezaléy and Rivaz. During the whole hike you can find a lot of information boards about harvesting the grapes and the history of the Lavaux terraces. (These boards are trilingual ind french, german and english! Some of the boards are especially made for kids!)
Keep following the trail and you will arrive in Saint-Saphorin after 3-4 hours hiking. You can either have a break in one of the restaurants around here or head towards the train station and go back to Lutry (once per hour, 5,60CHF per person) or to Geneva or Lausanne.
This hike has a total length of 12,54km and is suitable for everyone. It is very easy and does not require any special technical knowledge. I would recommend to not hike on a very hot summer day, as there is absolutely no shade on this trail. (Don't forget your sunblocker!)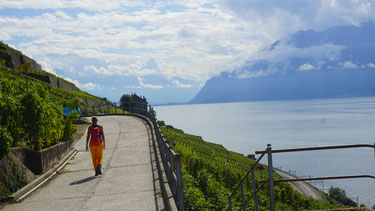 You can download the GPS-track for this hike below this picture!
Lavaux terraces
hike from Lutry to Saint-Saphorin
Lavaux terraces - Lutry - Saint Saphorin
GPS eXchange Datei
93.9 KB