You already know that besides hiking I am also a big fan of running. I have started my "running career" a couple of weeks after I moved to Switzerland and I started with some easy races first. (5km race and 8km during the Escalade in Geneva 2016 and 2017, 10km during the Chamonix Mont Blanc Marathon 2017, 6,5km during the Harmony Geneva Marathon for Unicef in 2017).
But of course, as for all runners and for all endurance athletes I guess, I always had a little voice in my head asking for more.
My father-in-law used to run marathons when we first met and I was always somehow really curious about what makes people wanna run for hours and hourse, but now that I had started it myself I felt like - this is a goal, I wana do longer distances as well!
So beginning of 2018 I signed up for my first half marathon - and guess what: I was SO EXCITED!!!
Training Time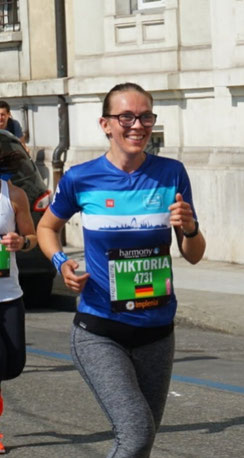 I knew, I couldn't just go to the start without any training of course, so I started to run a few kilometres per week. If you have ever been to geneva in January and February you might know: it is freaking cold!!! SO during these months, I couldn't really get myself into a good routine. By March 2018 I started a new job and my daily routine was suddenly upside down. I was so tired when finishing work, I felt like I can't even go for a walk with Ioma - how am I supposed to run?!
I only got back in training when I finally moved to Berne beginning of April, so I had a total training time of about 4 weeks.
I think if I hadn't been already very fit from hiking, I wouldn't have managed to get to the level of running a half marathon.
Race day
So finally, race day arrived. I had set myself into the start block for 2 hours and 10 minutes and I was so eager to start running!
The runners were separated into three start blocks and I started in the third block, so a couple of minutes after the actual start of the race. I started my race with a nice gitl I met at the start but during the race we somehow lost each other (fun fact: we accidentially ran into each other back at the train station in Geneva that day and could exchange our running times.)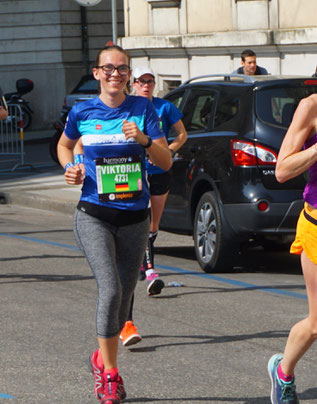 Since there is not too much to say about how it feels when you're running for more than two hours, here's just a few highlights of the run:
~ km 3: This was the moment when I realized I am actually running my first half marathon. I felt so super strong and incredibly happy, I might have had a few tears in my eyes ;)
~ km 10: I checked my watch and noticed I had never done a better 10km-distance. Pretty cool feeling when you're running in a big crowd through the sunshine and the beautiful vineyards around Geneva.
~ km 17: I started to feel a bit dizzy and I wasn't sure if I could really make it till the end, but there were so many wonderful people along the track cheering and clapping that you just cant help but keep on going.
~ km 18,5: This is where I saw my family for the first time standing on the side, waiting for me. Even the youngest member of my family came to see me running: my little baby-niece! Thi was such a cool moment!
finish line: needless to say that there is nothing better than the moment when you see the finish line! I had such a kick, I would just go really fast for the last few hundred meters. (You can see it in the video below this blog post.)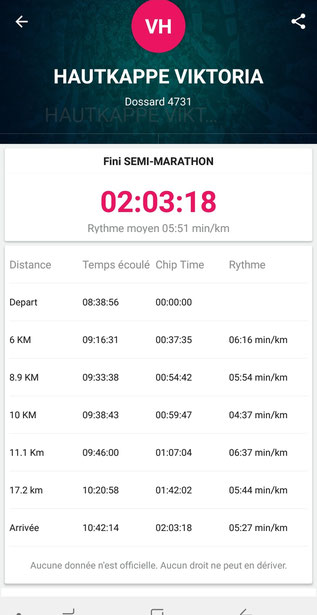 During the race you were able to follow me along the official racing app. For example: my family back home in Germany would sit on the breakfast table and follow me live on the track! How awesome is this?!
Here's a small overview of the race and of how I did :)
Below this post, you can also find my official race video, offered by the Harmony Geneva Marathon on theit website.
All in all, I couldn't be happier with my decision trying to run this race, but still I have two questions left for now:
1) When will I race again?
2) Should I do a half marathon or try the marathon next?
What do you think...?
My race - the video