Since I really love hiking (who would have guessed...), I still want to be outdoors in wintertime and my favourite wintersports is definitely: snowshoeing!
I like the fact that being on snowshoes is just like hiking, although it requires a bit more of fitness because even with snowshoes it can be challenging to step through the deep snow. I also like Nordic Skiing, but you are more or less limited to the prepared slope, with snowshoes you can go a bit off the beaten track. (Anyways, please stay on the marked hiking and snowshoeing trails to not destroy anything in beautiful nature!). 
How to start your snowshoeing experience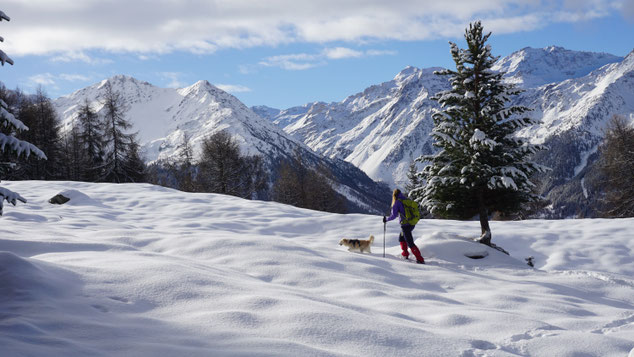 It sounds super easy, just put on your snowshoes and start walking. And it is easy! But anyways you will have more fun if you stick to some easy advice. These are my most important tips for you:
1. Wear good shoes (aka warm hiking boots!). I mean really HIKING boots! Don't try it with normal winter boots that might look fancy, but you won't have enough stability and your feet will hurt! Your shoes need to be waterproof (GoreText or similar) and warm, so wear also good hiking socks. (I will write about hiking socks in another blogpost.)
2. Don't forget your hiking sticks, because they will help you with your stability. You will especially be happy to have them when you go into the uphill sections.
3. Gaiters, gaiters, gaiters! Sometimes, I forget my gaiters at home and there is little as annoying (and cold) as snow and ice falling into your shoes. This happens easily when you go through deep snow!
4. Don't forget that snowshoeing can be much more exhausting than "ususal" hiking. You should consider this when planning your tour, so most of my snowshoeing hikes are shorter in distance than my summer hikes. Also it is of course a lot colder and you might not always find spots to warm up. Therefore the hike should not be too strenuos, especially if you're not used to snowshoeing, yet. You will need much more energy than for "normal" hiking!
5. It's wintertime, so start your hike early enough to catch the daylight. Consider the short period of daylight when preparing your trip. Always set yourself a turn-around-time (just like you should do in summertime!) and stick to this time! This is for your own safety!
A full snowshoeing outfit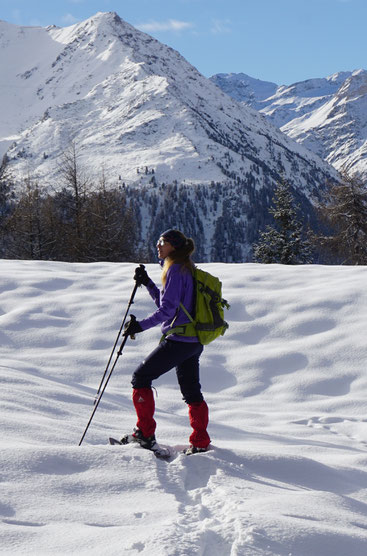 On the picture you can see my full equipment for a snowshoe hike. I added some shopping links for you!
Not included: snacks, hot drink, water, first-aid kit etc. 
My outfit in this picture basically consists of the following:
All these links are Affiliate-Links (learn more here). If I couldn't find the exact equipment anymore online (as I am already using some of theses things for quite a while), I added very similar gear where possible! This applies for the snowshoes, the waterproof jacket, the backpack, the headband and the gloves. The other products are the original products I am wearing on this picture. (Colours might be different.)
Do you want me to review one of these products more detailed? Levae me a private message or a comment and let me know what you're especially interested in!
Share this post!
---