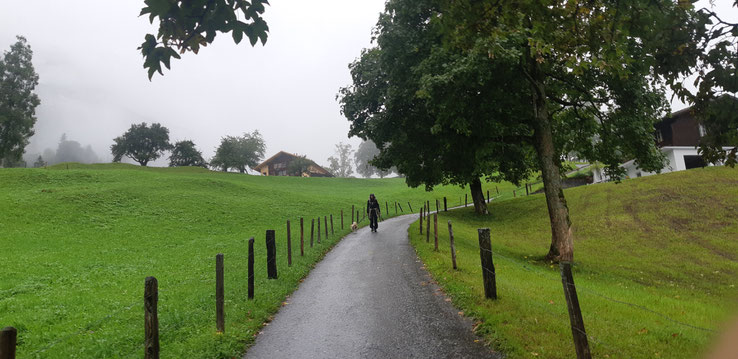 On the ninth morning of our tour on the Via Alpina we decided - with a heavy heart - to stop the hike. This had several reasons: within a few days we had used up the budget for 2 weeks of vacation due to the bad weather. If you suddenly have to switch to hotels and huts almost every night instead of sleeping in the tent as planned and therefore eat every time in the restaurant instead of cooking by yourself, this unfortunately happens extremely fast.
That's why we descended from Alpiglen to Grindelwald on the last day of our journey through pouring rain. I don't want to withhold this last section of the long-distance hike from you, but a route description is not worthwhile here, as you simply descend from Alpiglen via the signposted hiking trail to Grindelwald. For the record: here are the tour details.
Tour Details
5,43 km
difficulty: easy
refreshment stops/cabins: none
duration: approx. 1,5 hrs
starting point: Alpiglen, destination: Grindelwald
route: Alpiglen - Brandegg - Wärgistal - Grindelwald Grund - Grindelwald
Via Alpina is only suitable for dogs with a very high level of endurance and  good mountain experience
What's happening next?
I'm currently working on an e-book for you with all information (and a few more) about the Via Alpina with your dog. But you have to be patient a little bit longer.
Until then I hope that all the trail data will help you. Next week we'll continue with a winter theme - the big goal: ski tours! 
GPS track for download
Share this post!
---