Everytime I travel, I love the feeling to be on the road. Although it's nice to have a base somewhere and do some daytrips and dayhikes I also like to travel around. That's why most times when I go on a bigger trip (meaning longer than 5 days), I usually stay at one spot for two nights. On the third day I'll keep on travelling.
This might sound as if I was always in a rush, but that's not how it is. Let's take my current trip to Corsica as an example:
Day 1
ferry from Toulon to Ajaccio - travel time: around 8hrs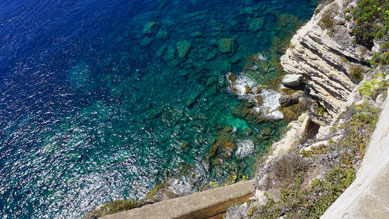 I like to see "travel days" as part of my vacation and important part of the trip. Not only that you go to another place, but you can see and breathe a lot of a new culture/atmosphere/way of life by travelling with your eyes open.
For the ferry we had to start pretty early. We got in the car by 5:15h and drove to the harbour, as you are supposed to arrive some time in between 3 and one hour before departure. As soon as we were on the boat we headed to the sun deck, as it was a lovely sunny day and we wanted to find a calm spot for Ioma (her first longer boat trip!).
Sitting down in some comfy chairs in a calm and partly shady corner of the ferry, I could start inhaling french way of life. As I am living in a french speaking area of the world I got most of the conversations which made it a bit more difficult to really get into "vacation mode" (do you know what I mean? - I love to travel to countries where I don't speak the language, simply because you always feel a bit more "adventurous" ;-P )
On the ferry Ioma did really good, she relaxed and so did I.
Although I'm a mountain addict, I spent quite a long time of the boat ride just watching the sea. The dark blue water all around, no land to see on the horizon just the endless ocean. Still it always seems to be in movement (and of course it is). Small waves crashing, white bubbles and every now and then - far away - another boat.
I kept thinking about what fascinates people to sail around the world. To be all alone with this endless blue "nothing and everything". Maybe not seeing any change within days. To be honest - I think this is nothing for me. I love the way how the view changes all the time while hiking, seeing mountains and landscapes appear and disappear and really feel the movement on my own. I assume that for me, being on a boat for days and days and days - would be simply too much and I would go crazy (and: I get seasick during "heavy" weather, while heavy means for me even a small movement of the sea, so I was super happy to realize it was a perfect day without any wind.)
When we left the ferry we headed south. We wanted to go to a campsite not more than an hour or two from Ajaccio. When we spotted a nice campsite along the street towards Propriano we turned left and installed our basecamp on a small camping close to the sea.
Day 2
"restday", beach and Propriano, preparing the next few days - traveltime: none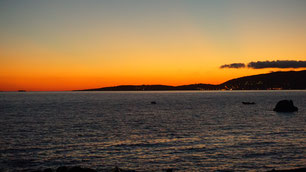 For the second day of our Corsica trip we all felt like having a rest day, so we just lay on the beach and strolled through the tiny streets of Propriano. French and Corse cuisine is all around so it was difficult not to eat ;)
And: the most important thing for today: we prepared the next days of the trip. I love to do this, but as the weeks before the trip were pretty busy I never had the patience to do it at home. So I sat on the beach, read two different travel guides (the hiking guide for Corsica and a more typical travelguide*) and created a small overview for the week.
This doesn't mean I have to stick to a tight schedule: usually I spot one or two or three things I defintely wanna do or see at one spot and for the rest of the time I stroll around the area I chose. So in this case I chose some hikes and small cities or beaches I want to go and checked, which would be the most pleasent route.
I ususally do not prepare more than a few days because plans might change and I aslo like the moments when I sit down to prepare the next steps/miles etc.
Day 3
keep travelling, go hiking; from Propriano to Campomoro and Bonifacio - traveltime: around 2hrs in total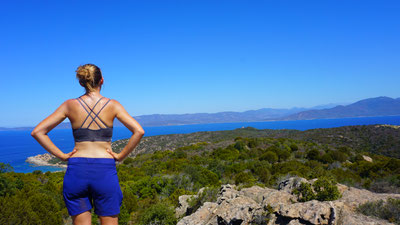 Compared to travelling on the ferry travelling by car is of course different. When we go on a road trip I am not the driver, but I am a good "co-pilot". I take care of drinks, fruit and cookies. I check the map, I choose the music, the podcast* or the audio book. I hand over the sunglasses or read aloud from the travelguide. You see - this is a very important and demanding task ;)
*by the way: do you know the podcasts of the Outside Magazine? You can download them for free and I love them!!
By seeing the traveltime as part of your journey and not just a transfer from one spot to another you will be a lot more relaxed when reaching your goal. If you like a spot - just stop! Don't take the highway but maybe the smaller roads through the mountains or along the coast? You will see a lot more and breathe mor of the countries atmosphere! Go and shop in small local supüermarkets or have a short break at farms to buy regional cheese/pastries etcs. When you come home you will have the feeling you really experienced the country!
For the next few days our plan is to go northbound from Bonifacio direction Zonza (or similar) and up into the mountains. From here we will go to Calvi or Bastia and back to Ajaccio on the last day. The ferry will take us to Toulon and from Toulon we will have a few hours drive back home to Geneva...