or: Why and how you can also go on ski tours as a beginner!
 On New Year's Day I did something: I went on my very first ski tour. For me, it was an incredibly cool experience, but also a real challenge, because: I am not a really super good skier.
Why I did it anyway and how it went? You'll find out in this post!
The idea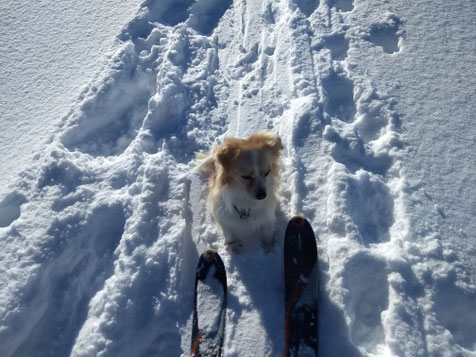 The idea to go ski touring has been in my head for a while now. My boyfriend is an enthusiastic skier, I am not at all myself. For me, the thought of being int the lift, all the people on the rock-hard slopes and, to be honest, the price is deterrence enough to keep me from skiing. And quite honestly; with Ioma a day in the ski area is not to be realized anyway. That's why the topic of ski tours became more and more present for me and my boyfriend, until we simply dared to spend a few days in Arosa.
The basics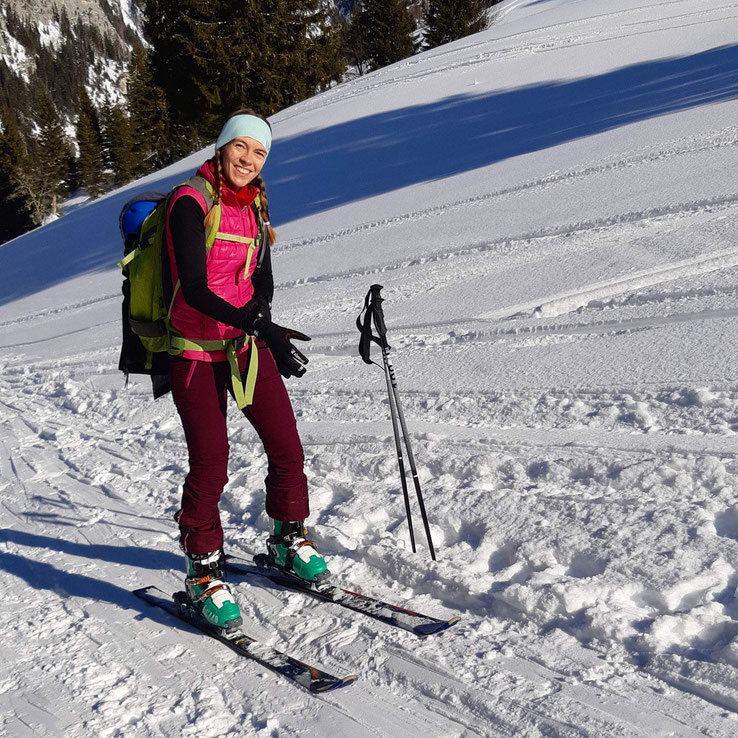 Of course there are a few things to keep in mind. Very important: you should have some basic skilss in skiing. In other words: you have already been on skis a few times and you are able to brake. It's best if you've also skied in deep snow before. Your first tour, however, has clearly to be adjusted to your skills. Below I give you some recommendations for tours in Switzerland.
Tours for beginners
Here are a few tours that are suitable for beginners:
Scheidegg (Arosa, Graubünden)
Seeberg (Diemtigtal) (shorter version of the tour to Seebergsee)
What else do you need? The right equipment!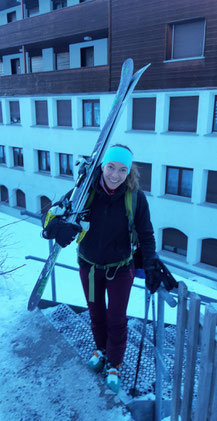 You can rent the right equipment for your first ski tour in (almost) every ski rental. I bought most of my equipment used after a few tours.
Touring skis with matching bindings and ski poles (please take a good look at the bindings in the flat country). You'll find a post here soon!)
Ski skins (of course they have to match your skis, you can also practice pulling up the skins beforehand)
Touring shoes (you can set these shoes to "walking" for climbing up).
Avalanche transceiver (check before every !!! tour and always carry spare batteries)
a shovel
an avalanche probe
Helmet with googles (both should fit very well)
In addition you'll need  the classic equipment for a winter tour: gloves, warm clothes, food etc.
Here we go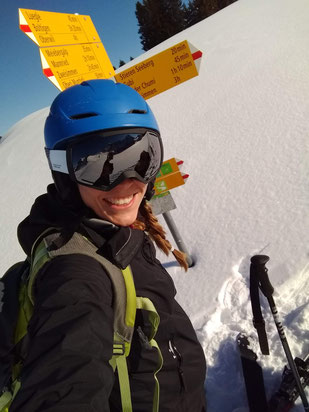 In fact, I found my very first tour to be totally easy. I always had the idea that a ski tour would demand a lot from me.  I thought only total ski freaks could do it - but that's not true!
On our first tour we climbed a gentle hiking trail. Here I "only" had to push my way up the slope (slide your skis, don't lift them while climbing).  When we reached the top, we partly took the hiking path (make sure you are allowed to go there) and partly slid over the really gentle slopes right next to the path. We followed the tracks of other skiers, the avalanche bulletin and our map.  
I enjoy touring a lot more than pushing myself down the piste with and between dozens of other skiers.
From time to time, however, I still take a day on the piste, because here you can train in a targeted manner and under secure conditions.