Basically, ski tours that are not too long and exhausting are well suited for beginners. Perfect are routes that lead uphill (and sometimes also downhill) along hiking trails. Very important: ski tourers are not allowed to use the hiking trails in every area, so make sure  you know beforehand whether it's ok or not!
This tour was one of my first routes. It is located in the beautiful Diemtigtal, a side valley of the Simmental in the canton of Bern. The route is very simple, but I would like to introduce it to you, because as a beginner you want to know exactly what you are getting into.
Requirements & Gear
This tour is relatively easy to do. If you are a beginner, I recommend this blogpost. That's where I explain which equipment and requirements you should bring with you to be able to do your first tours well and safely.
Tour Details
7,9km (round-trip)
difficulty: easy
refreshment stops/cabins: none on the trail, but a restaurant close to the start/end point of the tour, there's a small cabin where you could have a picnic at 1560m a.s.l. (outside only)
duration: approx. 3,5hrs
starting (and end) point: Parking Blauseeli (payment required, cash only, CHF 5 for 24 hours)
route: Parking Blauseeli - Würzi - further uphill/no marked points - Würzi -Parking Blauseeli 
suitable for every dog with a good condition and some mountain experience (I keep Ioma on the leash while going uphill and let her run free during the downhill, when she gets tired, she knows how to sit in the backpack)
Detailed Description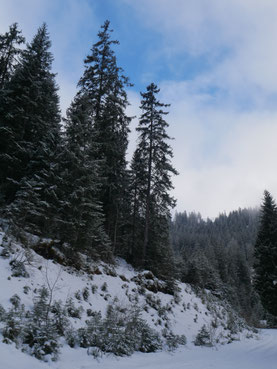 At the parking Blauseeli you can put on your skis right away, but don't worry, at the beginning the terrain is still flat. So you can get used to the feeling of climbing with your skis.
Just follow the hiking trail uphill until you reach a small crossroads with the sign "Würzi". Here you have to turn right, the path continues uphill, but now it gets a bit steeper. Just stick to the hiking trail - if you already feel safe and the snow conditions are good, you can shorten the track at some points and climb through the forest.
After a little over an hour you will see a small hut further up the slope. This is where you can have a small lunch break (own picnic!). You reach the hut after a fork behind a long curve.
When you have finished your picnic, climb back to the fork and continue straight ahead
About 30 minutes later you'll find yourself on a beautiful plateau. This is where your descent begins. The first part across the plateau is very nice, but there are also some rocks. So drive slowly and controlled. Then your downhill route follows exactly the route you just climbed. Some ski tourers may find this boring, but I consider it one of the best ways to get into skitouring, because if you have climbed the route yourself before, there are no unpleasant surprises waiting for you on the way!
GPS track
All credits for the photos of this post go to my good friend Andrea. Thank you :-*
Share this post!
---