Ioma is my running partner for more than 2 years now and together we have learned a lot. We improved our (my) surefootedness and our speed, we set new goals and ran on all different kinds of terrains, in different weather conditions and on different times of the day.
Pretty often we get asked on the trail, whether it's not too hard or difficult for Ioma to keep my pace, but I'll be honest with you: she's the one going fast!
Below, you'll find four tips that should help you to get your pup running! (These tips include Affiliate-Links. This post is not sponsored.)
How to remember the tips?
Remember the word PACE - Prepare, Adjust, Choose Wisely, Equip yourself & your dog.
Tip #1 – prepare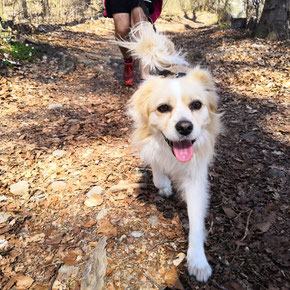 Find out if your dog likes to run and – just as important, if he or she is in the physical condition to start the training! This means: your dog should be at least 1 year old and not have any cardiac or breathing problems. If you are not sure, I recommend to search advice from your vet.
If your dog is a true couch potatoe you might start with very small steps to make running fun for both of you. Does he (or she) has a favourite toy? Maybe take it running at the beginning and don't focus on the speed or distance but on making sure your pup has some happy minutes and gets used to you being faster than usual.
Tip #2 – adjust
... goes along with Tip #1. You are the one to adjust, not your dog! Take your time to find out what is your dogs comfortable speed. Most dogs like running on a slower pace but can go for hours and hours on this speed.
Take enough breaks and give your dog all the time he needs. This is also the reason why I recommend trailrunning instead of "regular" running. Trail runs are usually done on a slower pace  and on a softer terrain. This is better for your pups (and your own) joints.
Tip #3 – choose wisely
Your dog loves you and will probably always run with you, no matter when and where. That's why it's up to you to choose wisely when, where and how long you will run.
Avoid the midday heat in any case, choose routes that your dog can master. In the beginning: short and flat and slowly increase together.
Tip #4 – equip yourself & your dog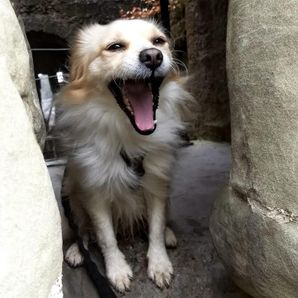 You probably have at leat one good pair of running shoes, several technical shirts and light running pants, don't you?
If your dog is good running off-leash you won't need a lot of extra gear - Ioma is not perfect at it, so we run with a leash and a good harness. Our leash is hands-free, like this one* and a harness for sled dogs. At the beginning we ran with our regular harness*, but the running harness leaves more space around the shoulders.
Your dog should not run with a collar and a leash, because the traction on the neck can hurt your dog. In addition, the carabiner of the leash can hit your dog's chest, back or legs.
(*Affiliate-Link)
---
I hope that these tips will give you an easy introduction to this wonderful sport with your dog. With Ioma training is definitely fun for me, even if I am not super motivated myself some days.