The tour to the Seebergsee is one of my favourite tours in the Diemtigtal all year round. It is suitable for hiking, trail running, snowshoeing and - of course - also as an easy ski tour.
The terrain is rather flat with a few beautiful descents. If you prefer to discover the Seebergsee in summer, you'll find the tour description for a 5-hour circuit here. 
Requirements & Gear
Tour Details
10,06 km (round-trip)
difficulty: easy
refreshment stops/cabins: none on the trail, but a cabin (no restaurant) with benches facing the sun on top of the Seeberg
duration: approx. 3,5hrs
starting (and end) point: Parking Meniggrund (payment required, cash only, CHF 5 for 24 hours)
route: Parking Meniggrund - Seeberg - Seebergsee - Parking Meniggrund
suitable for every dog with a good condition and some mountain experience (I keep Ioma on the leash while going uphill and let her run free during the downhill, when she gets tired, she knows how to sit in the backpack)
Detailed Description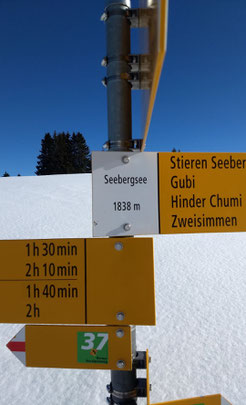 This route starts and ends at the Meniggrund car park. From the car park, you first climb gently up the wide hiking trail. In the upper part, the path becomes a little steeper. Please remember: even though the Diemtig valley is felt to be completely in the hands of ski tourers in winter, be considerate of other skiers, hikers and walkers.
After a while you will reach a small plateau with a beautiful picnic area and a view of the snow-covered valley. Here the tour follows a little further along the hiking trail (very flat terrain, you'll need a lot of momentum for the descent). Now the actual ascent begins: Keep slightly to the left and cross the large open alpine pasture. (In summer there is a road here.) After a few hundred meters the mountain slope becomes steeper on the left, you can still keep to the right and climb in a wide curve towards Seeberg. 
In front of you lies a round hilltop which you have to pass either left or right. Pay attention to the weather and avalanche situation. If the weather situation is difficult or you feel insecure, stop the tour. Behind the crest you reach the Seeberg. There are several small wooden huts with  benches and a wonderful view of the surrounding peaks. Either you can descend from here or you can glide down the last few meters and then continue to the Seebergsee itself. From here it takes about 25 minutes to reach the lake.
For the descent I have chosen the same route. Especially as a beginner it is nice if you know exactly what to expect. I needed about 2 hours for the ascent and about 1 hour for the descent.
GPS track
Share this post!
---