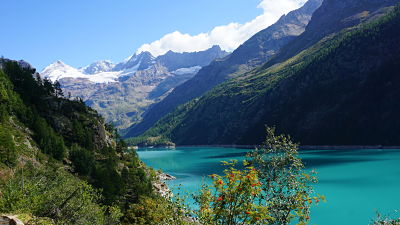 Maybe you remember, I  had some problems with my tendons last summer. We even had to cancel the last part of our Via Alpina through hike because I couldn't walk any further without probably risking some serious injuries. That's why we re-scheduled our big summer vacation and took our tent for a trip in the italian alps, exactly to the Aosta valley.
On one of the days I venutred for a little hike along Lago di Place-Moulin with beautiful views and a lovely cabin at the turning point. The lake is an artifical reservoir with an unbelievably beautiful blue and turquoise colour and dozens of tiny waterfalls along the trail.
The hike is suitable for everyone, as it's nearly completely flat and not even 10k long. The cabin in the middle of the distance will give you a lot of time to refresh and relax, so this trail is even perfect if hiking with less experienced friends, kids or when you are recovering but still want to explore a beautiful spot in the italian alps.
Dogs are allowed on this trail, be aware that around the cabin live stock will be grazing and other dogs are running around.
Requirements & Gear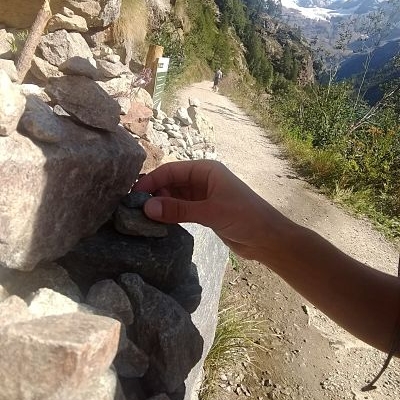 This hike does not require any special gear, except for a hydration bladder (I use this one.*)  or a big water bottle. I had some really sunny conditions, so I'd also recommend sun blocker, sun glasses and a hat to protect yourself from the direct sunshine.
You can walk this trek in trail running shoes or very light hiking boots. (It is probably also very beautiful to run this trail, but I just couldn't do it...)
You can bring your own picnic, but as there's a lovely retaurant on the trail with really good quality food, you won't really need it. (They also have good wine on the menu, although I opted for the excellent italian coffee.)
*Affiliate Link - learn more
Tour Details
9,92 km (back and forth)
difficulty: easy
refreshment stops/cabins: one cabin at the turning point of the trail
duration: approx. 3,5 hrs (including a picnic break of about 45 minutes)
starting (and end) point: parking lot at the Lago di Place-Moulin (fee required, payable in advance, cash only)
route: Parking Lago di Place-Moulin - La Lé - Rifugio Prarayer - La Lé - Parking Lago di Place-Moulin
suitable for every dog that can walk 10 km
Detailed Description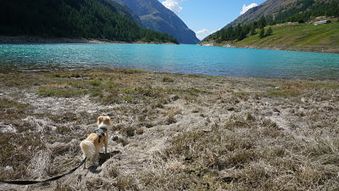 The path is really easy to find, because all you have to do is walk straight ahead. The trail leads from the parking lot over a tiny hill and then always along the reservoir. On your left, the rock faces of the surrounding mountains rise, covered with many small waterfalls.
Shortly before the Rifugio Prayayer you reach the alpine pastures. Here are some very gentle hills and if you like, you can also descend to the right to the lake shore. If you continue along the path, you will soon reach the hut. There is a restaurant with indoor and outdoor seating and a beautiful view of the lake.
The path leads back to the parking lot via the same route.
GPS track
Share this post!
---