At the beginning of this year I completed my first half marathon. I was so excited about it: it would be the longest distance I had ever run and my first "big" race. (Although I have to admit that due to the great atmosphere and the running experience even smaller runs can become big races, like the wonderful 10 km of Chamonix).
The Geneva Half Marathon was well done and of course my runner's heart demanded more shortly afterwards. But the big question was: more distance or a faster time?!
After some back and forth, I finally decided to go for the same distance, with the aim to undercut my original time. Therefore, I started at the Lausanne Half Marathon last Sunday with two friends.
The excitement strikes back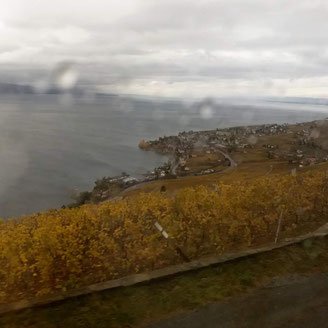 The evening before the race, I could not sleep properly. Again and again I was overthinking the same questions: Have I prepared well enough? Will it rain or even snow? What should I wear then? Will my ankle play well? (Info: after an injury more than 15 years ago I have problems with my right ankle from time to time.) And so on and so forth... You have to know: I am a very nervous person, I think about many things twice and three times and already play through all possible (and impossible) variants in my head. This is terribly exhausting for myself and sometimes also for my fellow human beings. I know that and apologize for it!
Sunday morning I was - of course - already awake before the alarm clock and the sleet in front of the window didn't exactly calm me down. I knew: these conditions are definitely not made for a best time. But nevertheless: put on the running clothes and additional layers to keep warm and off to the train! In Lausanne, pick up the bib quickly and then back on the train to the start.
Cold as ice, fast as the wind (nearly)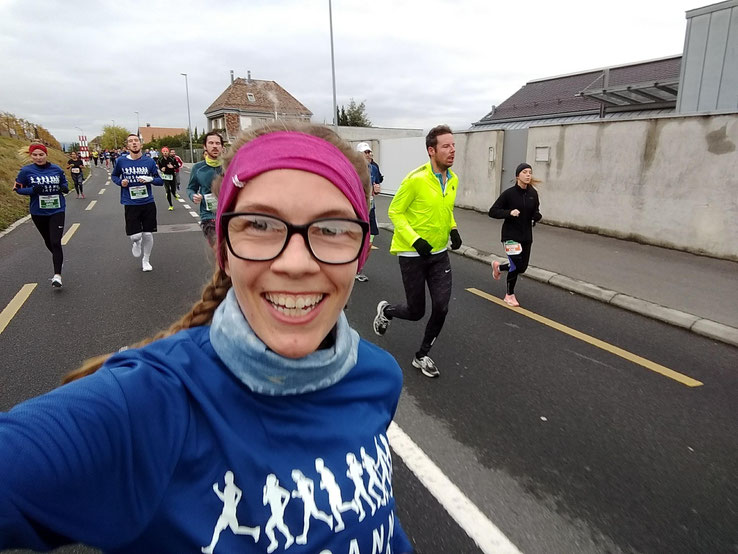 And then it got cold! After we left our bags at the start, we had to wait another hour and a half for our start in light drizzle (which fortunately stopped before the start) and icy temperatures. Luckily all runners were allowed to keep warm in a church at the start and were provided with hot tea and snacks. (Thank you, guys!)
At the start itself, I got off badly and needed a good 2 km until I had the feeling that I had really arrived in the race and then, suddenly, everything went like clockwork! On the first 5 km I could run a new personal best time (24 minutes, 24 seconds - what a cool time is that?!) and also on the 10 km another personal record was possible (50:09). And about there I realized that I would be able to undercut my time from the Geneva Half Marathon by far. With my training schedule I had prepared for about 01:57:00, but my average speed was much faster.
From kilometer 18 on I had to fight a little bit more, against a pull in the rear thigh muscle and against my weaker self. But shortly before the finish I spotted my training partners and my personal "cheerleader" (aka Ioma, with the loudest voice of all) and then I was even able to add a small final sprint, so by the end I can be more than satisfied with a finish time of 01:48:01,9!