---
This post is an unpaid ad. The running skirt (as well as some of the pants and the belt I am using) were given to me for free by VarioSports. This post reflects my personal opinion and experience. It contains links to external pages and Affiliate-Links.
---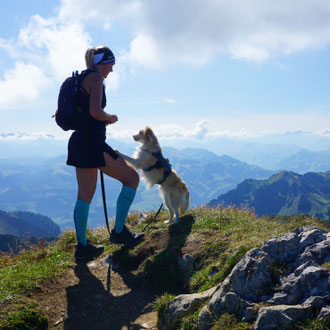 Product: Running skirt by Formbelt
Brand: Formbelt by VarioSports 
Product Type: Running skirt
Price: € 49,95
Season: spring to autumn
Sports: Running/Trailrunning
Rating: 5 out of 5
Detailed Overview
I bought my first Formbelt in 2016. At first, only because the color was simply awesome. (I'm talking about the Brazil pants and I know, opinions differ sharply about this pattern.) Over the last few years, more products have been added to the range. Other trousers in the Capri length, the belt itself, shorts and long running trousers. For the Formbelt-Blog I already wrote an article once. You can find it here. A couple of weeks ago the newest Formbelt product arrived via post: a running skirt.
A running skirt?!
I admit: I found the idea a bit curious at first. Go running in a skirt? But somehow it looked so nice with the other runners on the trail and why not? In everyday life I also like to wear skirts – so it certainly can't be wrong when running.
Now to counter your first concern: no, you can't see anything! A pair of shorts is sewn under the skirt to ensure that everything is always well covered ;) Even if there is a light wind blowing or you have to jump over an obstacle, you don't have to worry about suddenly allowing unwanted insights. After that's cleared up. What makes this skirt special?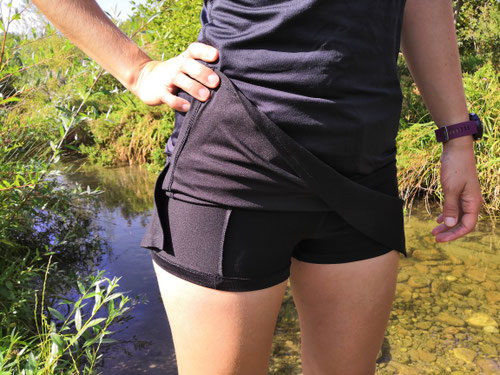 Material and the special belt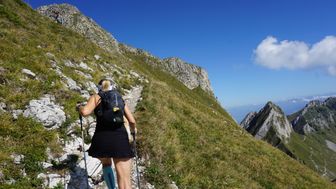 The running skirt consists of a light, fast drying material of 88% polyester and 12% elastane. I already know this material from my other running pants as very robust and highly wash resistant. The original Formbelt is sewn to the waistband of the skirt. This belt is double layered and has two or more pockets – depending on the product. 
During a training, you can carry your phone, your keys, money, hankerchiefs, poo bags, dog treats etc. in there. (And yes, everything at the same time!)
In fact, everything will stay exactly where you put it, because the material ist very slip-resitant.
Two options to wear Formbelt
The Formbelt is available in two versions: either as a single belt, which you can combine with other running wear, or as a sewn-in variant.
I have both versions in use, but I prefer the sewn-in belt. (Like it's done for the skirt.)
With the loose belt version, I always have the feeling that I have something "additional" to wear and when sewn on, you don't even notice that you have an additional pocket with you.
Especially on longruns I like the combination product better, because it's easier to combine with my running backpack and the leash.
Save 30%!
 So, this is a sponsored post and I am super happy, I can offer you a promotion code for all products in the VarioSports-Shop. Save 30% on your entire purchase with "lifeisaluckybag" – simply enter the code at the end of your purchase before you go to the check-out!