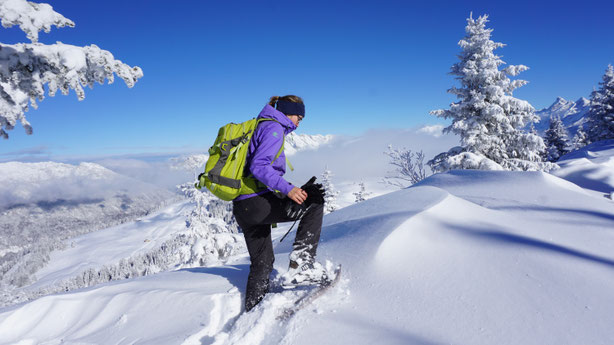 The hiking trail to the "Ferme du Colomban" is - just like the trail "Circuit de la Grange" - located in the French Alps, close to the village Manigod.
It's a 7km round-trip going up to 1701m above sea-level but still it does not require a lot of up- and downhill, but follows mainly across a beautiful high plateau. Since the trail is not always perfectly marked, I recommend to download the GPS track at the end of this post to make sue you won't lose the trail!
Requirements & Gear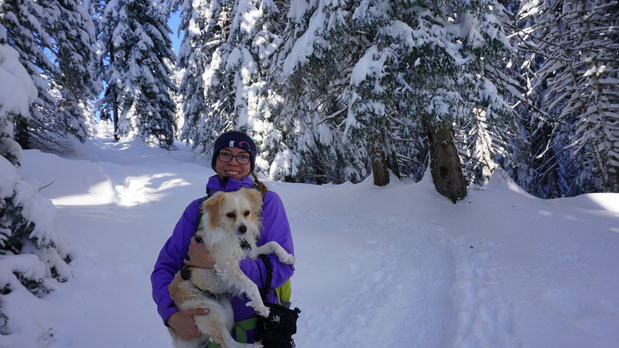 Besides snowshoes (rent them or buy your own pair: I have a pair which is similar to this one. (Amazon-Affiliate-Link)), you won't need much special gear. As usual, bring warm clothing, maybe a snack and hot drinks, first-aid kit as well as hiking sticks.
Don't forget your camera, because the High Plateau is incredibly beautiful when covered in snow!
Tour Details
7km (round-trip)
difficulty: easy
refreshment stops/cabins: none on the trail
duration: approx. 3,5hrs
starting (and end) point: Col de la Croix Fry
route: Col de la Croix Fry - Les Rosières - Sommet des Frêtes - Bassin de Colomban - Ferme de Colomban - Bassin de Colomban - Les Follières - Les Rosières - Col de la Croix Fry
suitable for dogs (especially for snow-lovers)
Detailed Description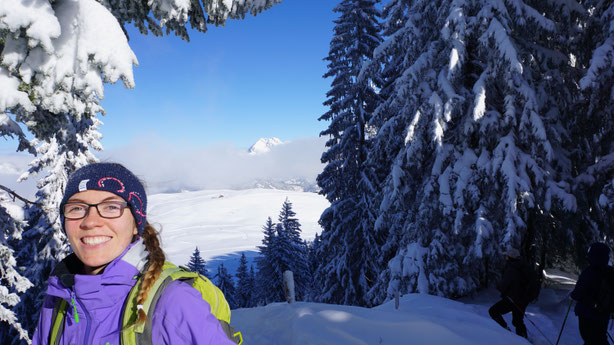 Start this hike from the Col de la Croix Fry, a pass in the mountains, already at 1477m above sea level. The ride by car from Manigod takes around 10-15 minutes.
First follow the trail towards Les Rosières and slightly uphill to the Sommet des Frêtes. From the summit the trail leads through a lovely winter wonderland downwards to the Bassin de Colomban and the (closed) Ferme du Colomban.
When I did this hike everything was covered under fresh snow and trust me - you wouldn't be surprised if some fairytale figures would step out of the forest!
Keep walking through the snow to Les Folliéres and again to Les Rosières. Afterwards make your way back to the Col de la Croix Fry. 
All in all the trail does not take more than 3,5-4hrs and it's surely not too strenuos!
GPS track
Share this post!
---