I've travelled to Hamburg several times, so when I came here last weekend, I didn't want to see the typical touristy spots. Since I was invited to a wedding the same weekend, I wanted to take it very nice and easy and simply do "nothing" (which is always hard for me...)
As I was staying at a friends place, they recommended a few places to go, especially good food places, that I would like to share with you!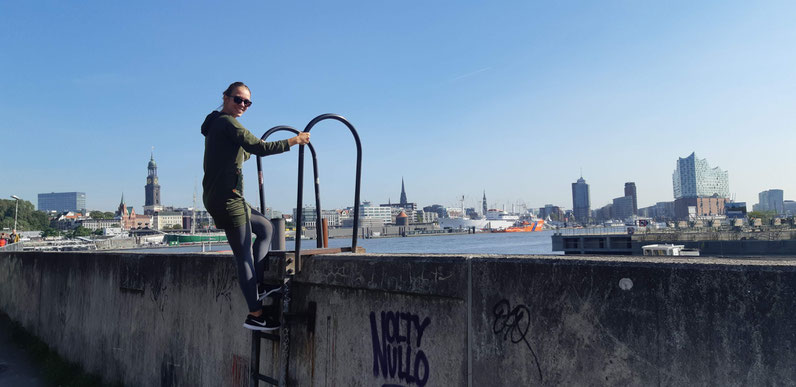 Sights
I have to admit, I didn't do much sightseeing, but I'd like to share two really cool (and free!) spots with you:
1. Elbphilharmonie, Plaza
Well, obviously, this is not a secret spot, since everyone knows the Elbphilharmonie in Hamburg. What I didn't know: you are allowed to go to the rooftop for free and enjoy a spectacular view across the harbour.
There's no need to sign up in advance, just go to the main entrance and you'll receive a free ticket for the next free slot to go upstairs.
Tip: Come here in the morning, as it's less crowded: the first bigger groups arrive around 10 o'clock.
More information about Elbphilharmonie and access to the Plaza.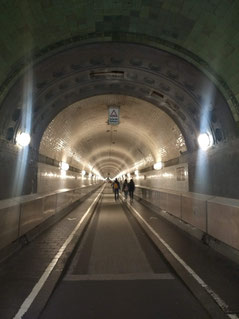 2. Old Elbtunnel
In 1911 the Old Elbtunnel was built to connect the two quarters of St. Pauli and Steinwerder. Around 60 years later a new tunnel was built and the Old Elbtunnel became a tourist attractions. Today you can still enter the elevator (originally built for cars) that will put you 24 meters under the ground. From here you can walk the tunnel in both directions. If you have a small car/a scooter or a bike you can also go through for a small entrance fee.
Tip: You can walk through the tunnel and take the public ferry back to the other side. Attention: the ferry doesn't run all day long!
Food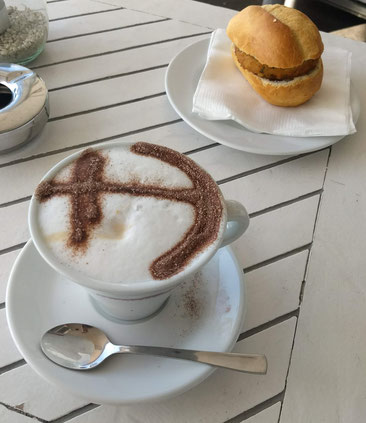 Breakfast at "Stääbchens"
Breakfast is most likely my favourite meal of the day. While at home I usually prepare simple and easy recipes, I like to spoil myself on the weekends with everything one can wish for breakfast.
In the tiny and super cozy "Stääbchens" Café the owners serve breakfast with a lot of regional ingredients (vegan available as well). My favourite choice: scrambled eggs with dark bread and as "dessert" fresh waffles -  simply heavenly!
Snack at "Brücke 10"
Anything more typical to eat in Hamburg than fish sandwich?! Well, I never eat fish, but my boyfriend does, so we stopped at "Brücke 10" for a fish sandwich and a coffee. They offer a wide range of different sandwiches here, so if you love fish, this is your place-to-be!
Lunch at "Jam Jam Asia"
I love sushi! And yes, you can be a sushi-lover and a vegetarian at the same time. At the Running Sushi Bar "Jam Jam" in Hamburg-Wandsbek I found a great choice of vegetarian and vegan sushi specialities. There's an all-you-can-eat offer during lunchtime – reservation recommended!
Dinner at "Café Leinpfad"
I'm gonna be honest with you: if you're vegetarian, you will have very little choice, but decide to either eat Pasta or Potatoes. But "Café Leinpfad" is worth it for two reasons: Location and Dessert!
TheRestaurant is located on an old jetty off the tourist paths with the river Elbe floating by. And the typical dessert from Hamburg, the "Rote Grütze" is undeniably one of the best non-chocolate desserts I ever ate in my life!
Coffee Shops
You might know, I love to sit down, have a hot drink and watch people. In Hamburg I did this a lot – because the sun was shining and there are simply so many beautiful places to take a break. (So actually, I hopped from one coffee break to the other...)
A really cozy place is the coffee shop "Mutterland" which is also a shop for delicacies. 
Bye bye and happy travelling,
Vicky