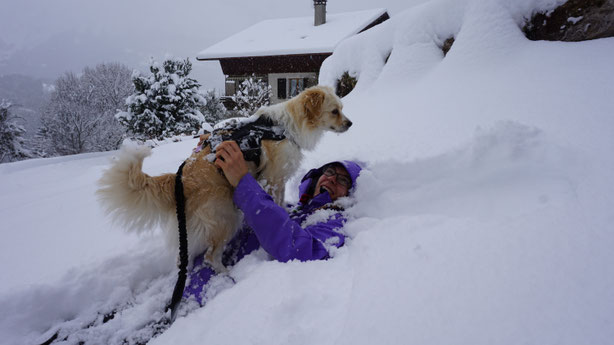 The hiking trail "Circuit de la Grange" is located in the French Alps, close to the village Manigod.
The hike is short, but takes you through a beautiful winter wonderland. About 6,7km well-marked snowshoeing trails make it a lovely day-hike - even for beginners.
Requirements & Gear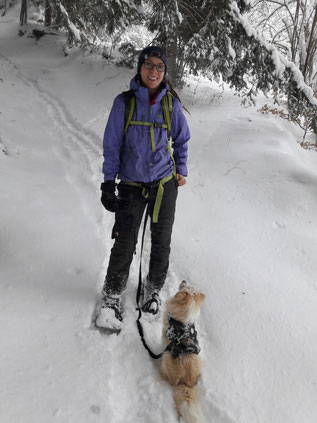 This hike doesn't require a lot of special equipment, except for the snowshoes, of course. You can rent snowshoes at most of the skirentals. If you do snowshoeing more often you can also buy your own snowshoes. I have a pair which is similar to this one. (Amazon-Affiliate-Link)
Otherwise I would recommend to bring the typical things for a winter hike: headband/beanie, warm gloves, hiking sticks (can be reallyuseful!), warm clothes, maybe a bottle of tea, some snacks, first-aid-kit etc.
Tour Details
6,7km (round-trip)
difficulty: easy
refreshment stops/cabins: none on the trail, but possible in Manigod
duration: approx. 3,5hrs
starting (and end) point: Villard-Dessous
route: Villard-Dessous - Froide Pierre - Champ Roz - Torrieu - Manigod - Villard Dessous
suitable for dogs (especially for snow-lovers)
Detailed Description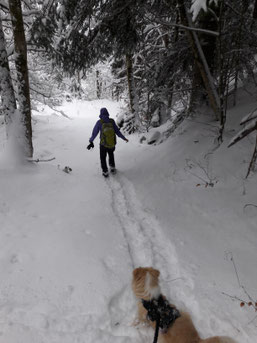 Start the hike in Villard-Dessous a bit outside of Manigod and follow the well-marked (snowshoe-)trail slightly uphill through the forest to "Froide Pierre". Now the trail will take you up- and downhill mainly through forest and along small forest streets until you reach Manigod.
In Manigod itself you find a few restaurants and bakeries - so you have some good choices to refresh before you head back along the same route. 
GPS track
Share this post!
---