You already know that I am in love with Corsica! One of my favourite days during our trip was definitely the hike to Monte Cintu. This summit is the highest peak of the island and although its "only" 2706m, it is a very challenging hike - but it also offers one of the most beautiful views on the island!
Start early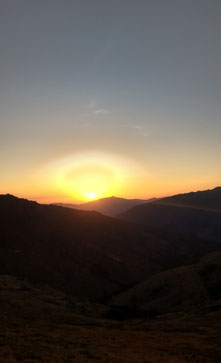 If you wanna do this hike, you need to start really early. Why?
1. You want to avoid hiking uphill in the worst midday heat, so try to get as high as possible before temperatures are really high. I started at around 6 a.m.
2. The hike is very long. Be prepared to be on the trail for about 10 hours!
3. You might need a lot of breaks as you start on 1091m above sea level, so you have a total altitude gain of 1700m to do.
You are still in? Perfect, so let's go!
The trail
Our hike starts at the small Campsite l'Arimone. (We stayed here for two nights and the hosts are lovely!)
Follow the street and make sure not to miss the small path on the left side. (You will need a headlamp or at least a normal lamp to find the trail at the beginning! I use this headlamp.*)
Follow the streets and paths up towards the alpine meadows surrounding the old Ercu-cabin. This cabin is not in use any more, but it's a nice place to have a little picnic or breakfast.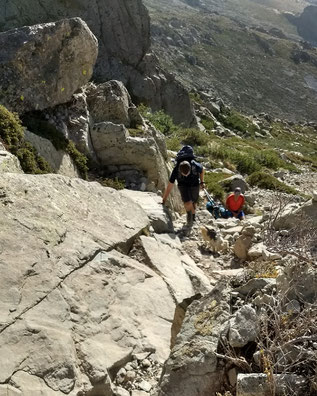 So now we start the "hard" part of the hike. You need to follow a very steep and rocky path. There are some passages where you will need your hands to go further. Anyway, you won't need any climbing gear to do this hike.
The trail will be steeper and steeper and is not perfectly marked in the upper areas. So make sure, you are really following the path! Use the yellow marks, if you are getting on the red trail, make sure you will really follow the signs uphill! Otherwise, you will climb downhill and you won't get to the top but directly to the lovely Cintu Lake.
As you see on the picture, this hike was manageable for Ioma as well. Anyways, I suggest to only take your dog when he is used to hike long trails. Bring enough nutrition, a good harness* and a good leash* (in case you don't want your pup to run free). I already did a post about good equipment for dogs on the trail, maybe you want to re-read it!
Remember, this is a really difficult trail for a dog!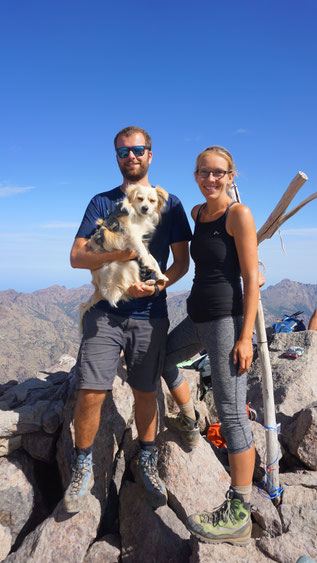 I reached the peak of Monte Cintu after round about five hours. The view is simply incredible - you will love it!
Monte Cintu is 2706m above sea level and you can enjoy not only the mountains around you but even see the coastline and mediterranean sea!
After a long break on top of the mountain, I'd suggest to make your way back to where you started. You have two choices:
a) take the same route back down to the Ercu cabin
b) take a longer and very beautiful trail towards the Cintu Lake first and head to Ercu cabin afterwards.
In the GPS-track the second route is described and I'd highliy suggest to do this one!
First hike down a few metres, turn right and follow the red marks. After around half an hour, the trail will split and you should follow the left one to loose some altitude. This part of the hike follows some very sandy stone fields, so be careful and also make sure you use your hiking sticks to give you more safety! (This part of the trail will be extremely tricky in wet weather conditions!)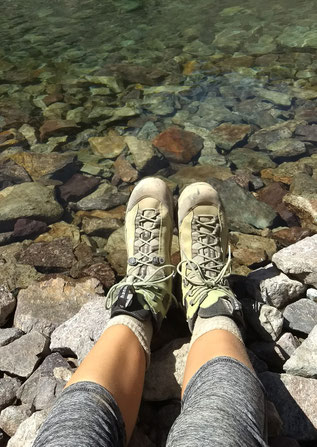 As soon as you reach the Cintu Lake you can enjoy a refreshing rest. Cool your feet, if you want to, because you still have a long way to go!
At the lake you should stay on the left side and follow the (not always well-marked) trail towards the Ercu cabin. This part of the hike goes through a very beautiful meadow with lots of little rivers, bis flat stones and fresh green grass. You might also meet some cows here, so better keep your dog close to you.
After round about 8,5 hours total hiking time, you will reach the Ercu cabin and from here you can follow the same trail back to the campsite. I did this part of the hike very fast, because I didn't have any water left. So here is an important advice: BRING A LOT OF WATER FOR THIS HIKE!!!
We were hiking with two people and the dog and we brought about 7l of water - this was surely not enough!
Anyway, after 10 hours of pure hiking and a great mountain experience you will reach the campsite and I am sure you will be tired, happy and proud. And you're gonna sleep incredibly deep...
Download the GPS track
GPS track "Monte Cintu
Monte Cintu - 19,32km.gpx
GPS eXchange Datei
247.2 KB