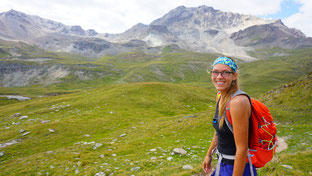 After my hike to Bella Tola, I hiked two more tours in Val d'Anniviers. Both were hikes to a lake and I was especially impressed by the beautiful trail to Lac de Lona.
This hike is easily manageable for most hikers with a bit of experience.
I'd like to share my experience with you!
Hiking Facts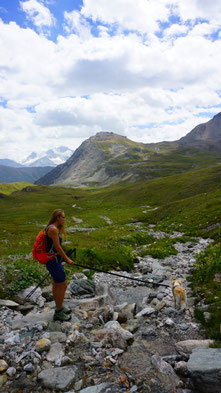 These are the most important hiking facts about this trail:
distance: 14,02km
starting point: Bendolla (2130m)
ending point: Barrage de Moiry (2250m)
highest point: 2800m
hiking time: 4hrs 15 minutes
difficulty: easy
requirements: nothing special, good condition
The trail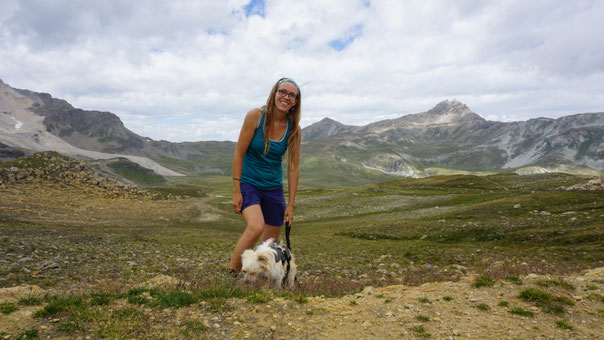 If you want to hike this trail follow this route:
Bendolla (2130m) - Les Crêts (2336m) - Lac de Lona (2640m) - Pass (2800m) - Barrage de Moiry (2250m)
The path is mainly forest routes and small paths, but there are several good signs and you will surely not miss the trail! First climb from Bendolla for several minutes slowly towards Les Crêts. The path will be smaller afterwards and you might have to cross some fields of stone (maybe with the use of your hand, but not difficult!).
The following part is the most beautiful part of the trail. Crossing a lovely high plateau towards Lac de Lona - discover all shades of green you can imagine. Just a bit up and down before you get back onto a forest route and going uphill towards the highest point of this trail.
Unfortunately the last part of this hike is not as beautiful. Follow the forest route downhill until you reach an artificial lake. Hike along the lake for several kilometres until you reach the big wall which is surrouding it. Cross the wall/bridge and you will arrive at Barrage de Moiry.
For all hikers with dogs: I did this hike beginning of August and we came across a few cows at the beginning close to Bendolla. Afterwards there were a few mountainbikers on the trail, but most of them were very careful when passing by.
At the end of the trail there is a small restaurant, but I will be honest with you: I would not recommend it. We had some coffee and ice cream, but service was really slow and it was super overcrowded.
I liked this hike anyway, because the views around Lac de Lona are simply stunning. You can easily reach the starting and finishing point by public transport and the Val d'Anniviers offers a free card for public transport, so there is no additional fee!
---