Last week I was able to spent a few days in the beautiful city of Budapest, Hungary. It is a lovely city which I had aready visited more than 10 years ago - so I was curious to see if the city has changed.
My days were simply full of sightseeing, meeting wonderful people and strolling through this amazing city. Even a small hike was included (see a picture on my Instagram!)
I'd like to give you my TOP 5 (not so usual) Highlights for a city trip to Budapest!
HIGHLIGHT No. 1
Eat traditional hungarian food
As simple, as it sounds, this is my preferred way to get a real taste of a foreign country and a new culture. Food is something special, something social and something individual of course. As a vegetarian Hungary might not sound like the perfect food-spot, but don't forget, there is much more than just gulash soup in Hungary!
For example you could try the delicious "palacinka". This is a traditional hungarian pancake filled with either salty or sweet ingredients. It is a delicious choice and very filling, so be prepared (and take the normal size, not the big one!). I went to a small restaurant in the outskirts of Budapest, in Csepel. The restaurant is called "Arany Sörözö" and it is visited a lot by locals and less by tourists. (The menu is only in hungarian!)
If you don't want to go too far out of the city, I recommend to try a "Lángos". This is deepfried bread with different toppings. It can be salty or sweet, although some locals told me the traditional way is the (vegetarian!) salty way with sourcream, cheese and onions.  My recommendation: the "Retró Lángos Büfé" close to the Cathedral! (Don't try to eat Lángos with fork and knife, real hungarians eat it only with the help of their hands - you will make a big (tasty) mess!)
If you want someting sweet: why not try the sweet Dobos-Cake made with a lot of chocolate and a crunchy caramel-topping. I love sweet things and this was my first Hungarian taste last Tuesday. You can eat the Dobos-Cake in nearly every restaurant and bakery and it differs in size and price!
Additionally, I recommend to visit a local supermarket for some typical hungarian sweets!
Oh, and don't forget about hungarian wine and liquor!
HIGHLIGHT No. 2
Join a free walking tour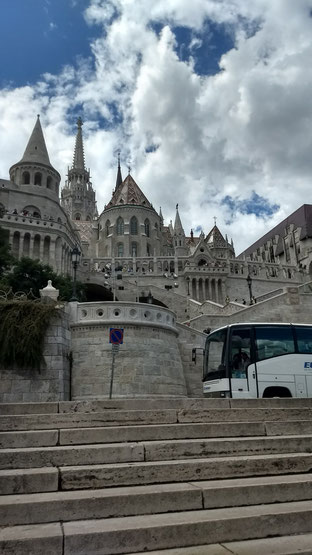 As I am a tour guide myself, I like to see other guides working. Additionally, I like the free walking tours because they give a good overview of the city you are visiting and you can meet some nice new people.
I joined two tours of the Free Walking Tours Budapest - the General Walk and the Jewish Walk.
The General Walk (with Cilia) gave a good overview over the hungarian culture as well as the main sights in Budapest. I also loved the short lesson about hungarian language! Really cool!
The Jewish Walk (with Daniel)  took us through the Jewish Quarter of Budapest - a quarter with a long and not always easy history. Anyway you will enjoy learning a lot about Jewish Culture!
Both tours were super interesting and I loved how the guides showed us some special sides of Budapest. If you want to explore the city in a fun and relaxed way - the free walking tours is where you need to go!
As the tour guides are offering their tours for free, please do not forget to leave a tip! They will really appreciate it!
HIGHLIGHT No. 3
The Jewish Quarter of Budapest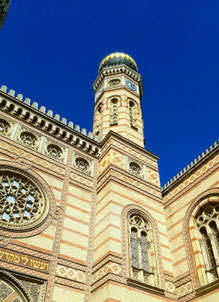 Even if you don't manage to do one of the free walking tours through the Jewish Quarter, you can hardly go to Budapest and not see it!
This part of the city is packed with cool restaurants and cafés. It is a lively place - not only during the night.
You can find lots of historical buildings and it feels like very second house is a synagogue - you can visit many of them. One of those is one of the largest synagogues worldwide!
Stroll through the lovely little streets, sip a drink and enjoy the wonderful vintage style stores (see Highlight No. 5). You will love Budapest right away!
Make sure you don't miss to see the old ruin bars in the Jewish Quarter to have a drink in the evening!
HIGHLIGHT No. 4
Hike to the Gellérthegy (Gellert Mountain)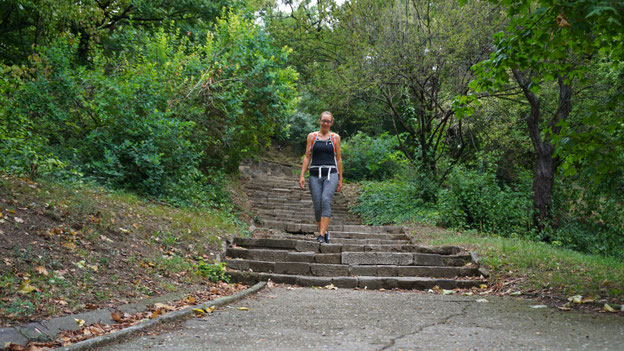 If I don't get to hike during a vacation, there must be something wrong!
Although most areas of Hungary are very flat, there are some small hills to climb and enjoy some nice views.
One of them is the Gellérthegy - only 235m above sea level - it still provides a nice view across the city. You can go up by public transport, but of course, this was not my choice!
I did a short and very calm hike of less than 5km along the Danube and then up the hill. During the walk I would see some of the most important monuments and enjoy wonderful views of Budapest.
This hike is possible for everyone as it leads mostly across asphalt roads. It includes some stairs but absolutely no difficult sections. I imagine next time, I want to go up in the late evening, as I assume the view most be wonderful with the city lit up completely!
HIGHLIGHT No. 5
Vintage Shopping
This city if tull of great vintage stores and lots of second-hand corners.
I have to admit, I spent hours strolling through, although normally, I am not a shopping addict. I simply loved the style of the shops and to see all those funny, crazy and unusual clothing.
Of course, I shopped a bit, but I didn't spent a fortune - because Budapest is very budget-friendly! (Especially compared to Geneva...)
These are my three favourite stores:
1. Retrock - a store not only for girls. On two levels you find everything for everyone (except for kids). Decorations are beautiful inside with a lot of small details!
2. Szputnyk - two stores in the inner city of Budapest. Not only second hand, but also their own designs. Tip: try to find one of the pink leaflets (mostly at the entrance of the stores, these leaflets give you a reduction of 10%!)
3. Háda - less decorations than in the real vintage stores, but very low prices. Several stores all over the city, but mainly in the outskirts of Budapest.
---
I have to say, I am a big fan of Budapest. It will definitely stay on my list for my next city trip again and I hope you will go as well!!