Chamonix is a beautiful place and offers possibilities for a lot of different free-time activities!
Friday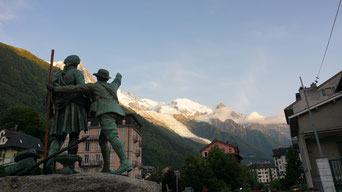 I like to go to Chamonix by car. From Geneva it's only a 1,5 hours drive, so this is the easiest option for me.
(The fee for the highway from Geneva to Chamonix is 8,00€).
Last weekend I decided to stay on a campground. It's cheaper than most of the hotels or Air B'N'Bs and there are several campgrounds all over the valley. I stayed on the Camping "L'Île des Barrats" and I highly recommend this site. It is very clean, provides everything you might need AND it's in walking distance to the city center of Chamonix!
If you don't want to go camping there are a lot of hotels etc. in and around Chamonix.
As soon as the tent was set up, I started to feel hungry (to be honest, I am hungry nearly all the time :D ).
Because it was a warm summer evening, I didn't feel like sitting in a restaurant, therefore I checked the burger at Poco Loco. This cute little Burger Bar was established in Chamonix in 1996 and offers a big variety of Burger, Fries and typical French Crêpes. (As I am vegetarian, I had one of their vegetarian burger - to good to describe!).
Sitting down with some good food and enjoying the glow of the alps is always a perfect start for a weekend in Chamonix!
Saturday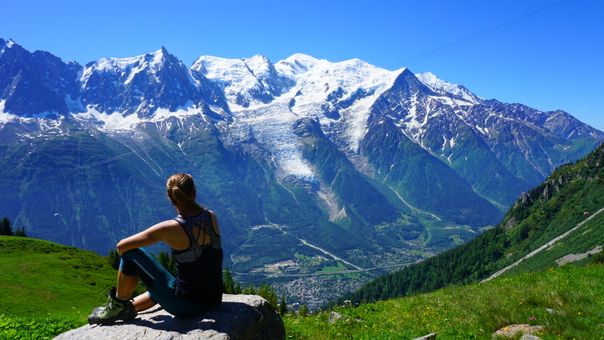 Saturday started early - because I had a plan on doing a long and strenuos hike: the Brevent. This peak is 2525m above sea level and I started the hike from the village at 1085m.
This hike takes 6.5hrs and starts with a very hard ascent of 1000m elevation gain. I tried to go fast and made it to the first summit in 1hour and 45 minutes - a personal record!
This first summit is Planpraz. It offers a wonderful view to the Mont Blanc. Additionally a lot of paragliders start from here, so you can watch them organising their stuff and start off.
After a short break at Planpraz I went on towards the summit of Brevent. This part of the hike requires more technical experience, although no climbing is needed. You need to cross everal screes and fields of snow. One ladder makes it more difficult if you are hiking with a dog, but it's still manageable for experienced mountain-dogs.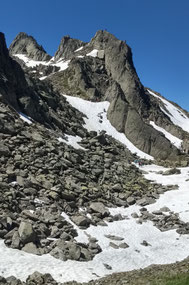 The final view on top of Brevent is really beautiful, although I think the peak was a bit overcrowded. It's possible to go up by cable-car, so a lot of people stop by.
That's why I decided to go down a bit and have a lunch break before going all the way back down to Chamonix.
Spending the afternoon in Chamonix is easy! I love to stroll through the mountain stores and eat my traditional after-hike macaron from my favourite Chocolaterie Ancey in the city center.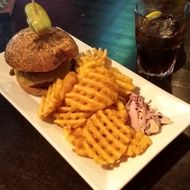 For the perfect evening I suggest to not miss the fancy Rue des Moulins for some cool bars and (on summer evenings) a lively summer festival feeling.
If you feel like eating a little bit outside and not in the crowded area of Rue des Moulins, sit down for some really good (canadian) bar food at the MBC. The Micro-Brasserie de Chamonix is a colourful bar and restaurant and offers a big variety of different beers (partly brewed in the MBC!). The waiters are fast and friendly and they have alot of live concerts during the weekend!
Sunday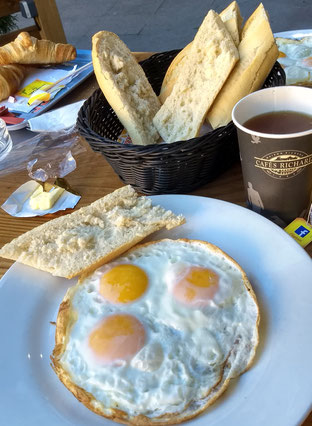 I love to have a good breakfast before hiking. And I love to have a good breakfast on Sundays. So, why not combine??
On Sunday I wanted to try a new restaurant and had my breakfast in the lovely Buck's Coffee Shop. Afterwards I hit the trail towards Mer de Glace to see the largest glacier of France.
I had already been up there a few times, but I love the view and the hike is not too strenuos, so it's a good choice for a small Sundays hike.
This hike starts from the city center of Chamonix with a short ascent for the first 400m of altitude gain. Afterwards the trail leads through the forest, slowly going uphill to the lovely Chalet de Caillet.
The trail goes on uphill to finally reach Mer de Glace. As there is a chance to get here by train, usually a lot of people are on the platform to see the glacier. But as soon, as you hike a little bit off the beaten track it get's less crowded.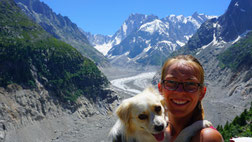 There are several routes to get back down to Chamonix. One of them is very impressive with a lot of big stones. It requires a bit more technical knowlegde and includes a small ladder to climb down. That's the track I chose to go back down to the valley.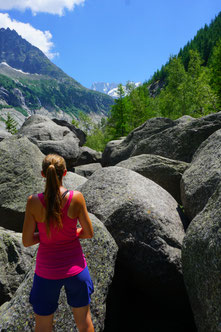 This trail includes passing by another cabin with a beautiful little garden in front. Additionally the distance is a little longer, while the downhill part is slightly more comfortable for the knees.
All in all this trail is a 5hrs trail (with some long breaks) and a total length of 12,58km. I would recommend this trail for everyone who would like to gain some more experience in more difficult terrain and if you are working on your dogs surefootedness this hike is a good idea. (Mind the ladder!)
The afternoon in Chamonix is easily spend at a nice café, before heading back to wherever you are having your homebase or to what your next stop will be!